Hebron Village Green District
The Hebron Village Green District is the largest economic development opportunity in the Town of Hebron. This is a collaborative project between the landowners, Horton Brothers, LLC, and the Town of Hebron to bring a long-term, well planned, and mixeduse economic development area to the Town of Hebron. In the planning stages for many years, the project Master Plan has already received zoning approvals, and is now ready to move forward to the development stage. The Hebron Village Green District, a mixed use planned development located adjacent to our existing Town Center, offers a unique opportunity for a developer who has the desire and the vision to help create a new commercial and diversified residential use centers for the Town of Hebron.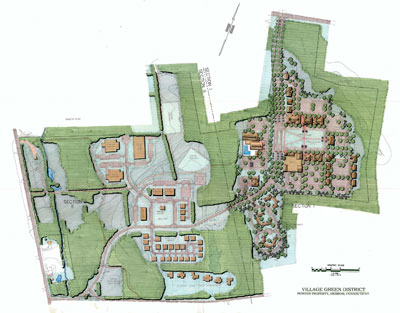 The 130-acre parcel is strategically located with frontage on Main Street, Church Street and Kinney Road in the geographic center of Hebron. The entire site is located within the town's Sewer Service District.
John Horton Boulevard, an 1,100-foot access road has been constructed into the property from Main Street (Route 66). The construction of this road is but one example of the ongoing, long-standing support of the Town of Hebron, as funding for this road was provided by a Small Town Economic Assistance Program (STEAP) grant secured by the Town of Hebron. The road construction project included bringing public sewer and public water into the site.
In Spring 2011 a recently approved Traffic Signal Light will be installed at the intersection of RT 66 and John Horton Boulevard. This is yet another collaborative effort between the Property Owners in the Village Green District and the Town of Hebron. With the installation of this traffic control device Phase I of the Village Green Project is ready for site plan approvals!
Please click on the link above to access the project website to download the supportive documentation that demonstrates the extensive and comprehensive work completed by the Horton Brothers, LLC, and the Town of Hebron to move this project to the development phase.
For more information please contact:
Jim Celio
Principal Broker
CENTURY 21
17 Hebron Green
Hebron CT 06248
Tel:860 228-9425
Cell: (860) 463-2563
Jimcelio@aol.com